Thank you for finding my site and wishing to learn/view more on the workshops I provide with the amazing medium of resin. I must add a word of caution to all - be prepared to fall in love, as resin is very addictive.
Note: I am still receiving emails asking pricing, times, what's included.... Everything you may wish to know on these resin workshops is shown on this page. 'Please read through' - as looks a lot but all is here for you.Thank you.
About myself.... Jennifer Cruden
Being a full-time artist, painting with both oils and resin. Having taught oil painting classes for many years and with resin for over four years, loving passing on information learned over the years to all who attend workshops.
Many of those who have attended are now producing their own resin art in either paintings, or homeware, and are attending markets etc selling the items they are producing with resin.
View details of sessions and cancellation policy here .
Please take note: On a workshop day, I do not take/answer texts. Best to phone. No answer? Then hang up and ring again for me to answer - do not leave messages. Thank you.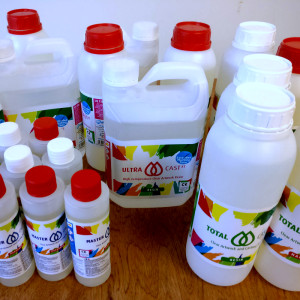 Selection of world-class resins. From jewellery/art/design and deep casting.
Non-toxic, two-component polymer resin that produces an optically clear, high gloss finish.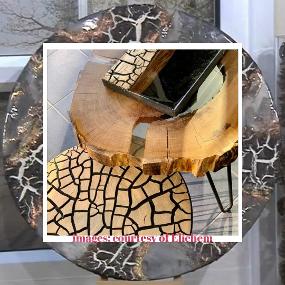 Brand new on market March 2021 -

Crackle Paste

. This is an exciting new product just arrived. Can be applied up to 50mm in depth. Coloured with acrylics.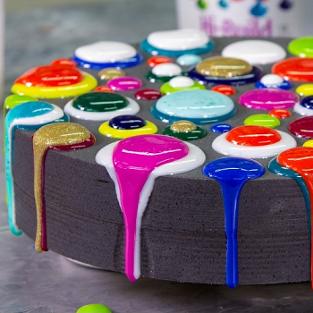 Amazing new product -

Hi-Build 3D resin

. Ideal for blob art, 3D, collage, geodes, lines, stripes, domed-raised sections/cabochons - and more.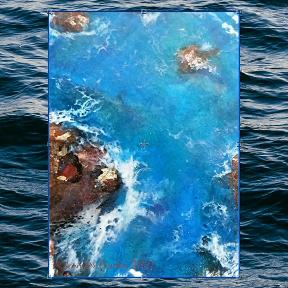 Image - one of my resin art paintings of aerial view seascapes. Gorgeous Colour Passion pigments together with several coats using -

Mastercast resin

.
Sat 12 June - Complete Introductory to Resin - Papakura - FULL
Sat 19 June - Complete Introductory to Resin - Browns Bay - FULL
Sat 26 June - Complete Introductory to Resin - Browns Bay - FULL
Sat 3 July - Complete Introductory to Resin - Browns Bay
Sat 3 July - Fun using moulds- Browns Bay
August Oil Painting - Papakura
View full details of sessions further down page.
Book by sending message for which session you would like to attend.
Payment details will then be forwarded to you.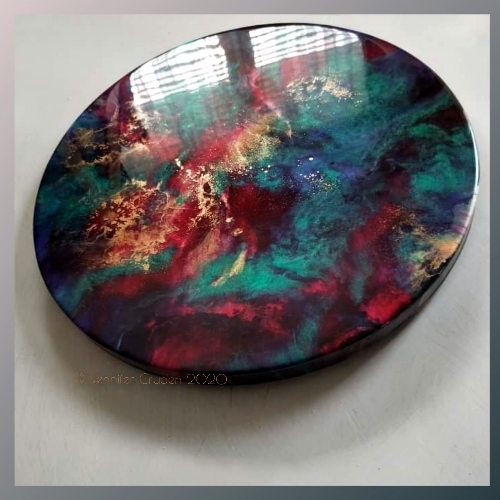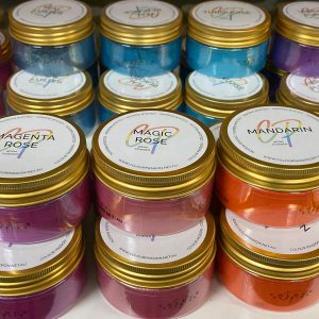 You will absolutely love these resin workshops. Your finished piece of artwork will be a one-off special item which you will be proud to show to family and friends. You will find resin art to be extremely addictive, and will 'just want more'. Items are to be collected the next day as require time to dry (or by arrangement).
Safety - The resin we will use is a quality resin (Mastercast) specifically made for art. It has no smell;, no VOCs, high UV resistance and clear coat approved for food placement. All Art materials are supplied as well as protective covering. When we use fine powders and/or heat the resin, we need to be careful with our health, therefore a mask will be provided to attendees which must be worn (not cotton).
View beautful items which have been made using the resins we import and use here. Get inspiration and be inspired. It is up to you what you wish to do with resin to take you on your onward journey with this incredible resin medium. Visit and enjoy images (choose Gallery tab, then select back button at top left of browser window to return here).

If wishing to book a session, or need to ask a question, please complete the form located on my Contact page.
Want High Quality thick Moulds? - These simply are definitely some of the best you can buy. Cannot emphasise enough on the quality of these. Visit Shop page for more info on these.

If you only wish to receive the newsletter please sign up via the pop-up newsletter form, not via the contact page. Thank you.
An Acrylic pour fan? These powders are also able to be used with acrylic pours. They look fabulous see See mauve image on home page.
For those wishing to fully learn.
Sat 12th June- Papakura - FULL
Sat 19th June - FULL
Sat 26th June - Browns Bay - FULL
Sat 3rd July - Browns Bay - (9am)
10.00 am to approx +/- 2.00pm
as well as ... the next morning arrive 9.30am.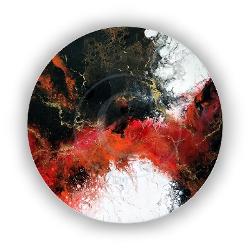 $235.00 Wall Art round 50cm (approx)
This session is particularly designed for those who wish to learn everything on resin that is needed in order to be able to continue at home with an incredible product. Note: also the next morning as above. Full explanations on various resins, items to purchase which you will require for using resin, mixing, different colours, pigments, pastes, tints, etc. How to use - and so much more.
Choose from many colours (including micas), as well as glitters, metallic powders and tints. This is the session if you wish to understand resin for future use. Artwork needs 12 hours to dry and several ldays to harden.
Read details of resin workshops below.
Definitely an entertaining and fun session. Large selection of moulds to choose from.
Sat 3rd July - Browns Bay
2.30 pm to approx +/- 6.00 pm
as well as ... the next morning arrive 10.00am.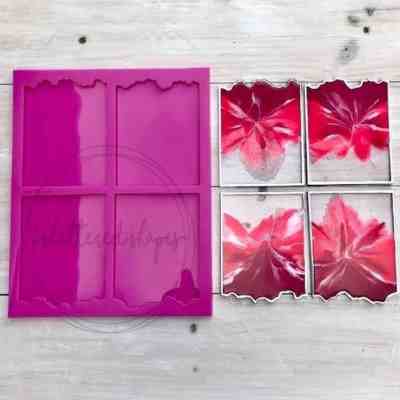 $115.00 For those wishing to learn to make your own items to have as gifts or sell. Have a fabulous time with moulds.
Note: Bring your own resin - this must be resin we use in sessions, preferably Totalcast, however, Mastercast also acceptable. Add golds, silvers, glitters, foil, buttons, etc. Bring whatever you wish (not high/chunky tho). Large selection of inclusions, as well as colours and glitters available also for you too use. Choose from a selection of my moulds in addition please bring or purchase your own. If do not have resin then may order, as well as moulds, from the following -www.resinandmore.co.nz. All able to be delivered to venue ready for you.
If you would like to have very high-quality thick hand-made moulds which will last and which I use, see my shop tab at top (disc offered) - as per image shown above.
Read details of resin workshops below.
Beginners are welcome, thonot for those who have 'nil' experience with oils.
August , dates to be advised.
Papakura -two-days
9.30 am to approx +/- 4.00pm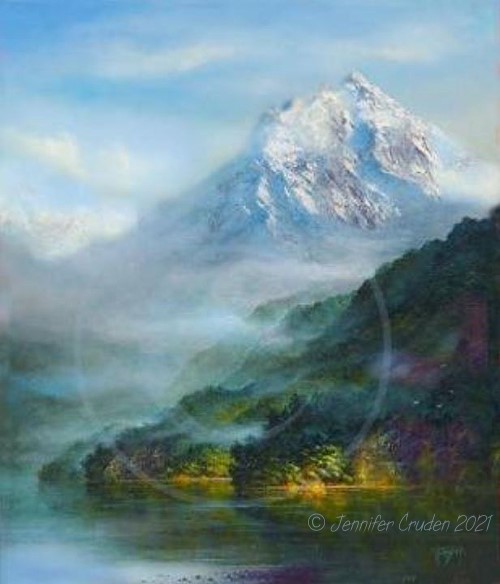 $250.00 Mountains/bush/mist. Slightly different to above as to be painted on a large square canvas. >>> See Oil Painting page.
Note: This session is not the same as the full teaching two-day workshop on learning oils. You will be taken on a step-by-step process through the stages of the painting, with completion on the second day. Your own oils/brushes as well as required size canvas will need to be brought along. A materials list will be provided to you upon registration. I do not believe in spending money if do not have to therefore paint colours used you may possibly have. If not then only a couple more needed as we will be mixing paints to produce other colours.
See Oil Painting page.


On the day should you wish to purchase any pigments or resins, you will receive a special discount for these.
Details of resin workshops

Duration of approximately +/- 4 hours. It is extremely difficult to locate premises where resin is able to be left overnight, therefore at the present time, these are held mostly on Saturdays with an occasional mid-week or Friday offered. All resin, pigments, pastes, micas, metallic powders, glitters, plus substrate are provided.

________________
The 'Full Introductory' resin session - This is for those who wish to learn the ins and outs of resin in order to continue their adventure in resin at home. All you will need to know is explained in this one day session ie mixing, colours, various tools, substrates available, techniques, PEP. You will be confident to continue using resin. Pigments/Powders/Pastes /Resin and glitters are able to be supplied for purchase - these are imported directly from highly respected resin and pigment manufacturers overseas. A discount will be provided to be used either on the day or at a future date. Now one of the main suppliers in NZ of these - see shop page for more details.
'Other' resin sessions - If you do not wish to learn the intricacies and ins and outs fully of resin, and would just like to take a session to 'have a go' and to complete an item, then these resin workshops may just be for you (these do not provide the amount of information as provided in the 'full introductory' session.) All colours (pastes, powders, metallics) and glitters will be available for you to use.

Safety equipment - is supplied and the mask (not a light cloth one) must be worn when undertaking resin, especially if dealing with very fine powders/micas or if heating resin. If unable to wear mask provided, then you will be unable to attend. No refund will be given if not wishing to wear on the day.

Drying time - Resin takes a minimum of 24 to 48 hours to cure (dependant upon resin used). Collection of article is the next day or by arrangement. Resin is a type of plastic please be careful as may be prone to scratches - hardens over several weeks .

________________
Important -
As mentioned, the resin we use is a quality resin for art and a lot safer than others on the market, however, as all resin has a chemical structure and as we will be mixing in paint/pigments and using heat, it therefore is not advised for women who are pregnant or those who may suffer from asthma or have other allergies to items.
All attendees do need to be 15 years and over.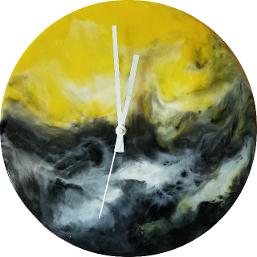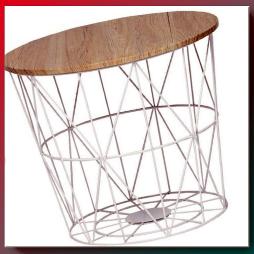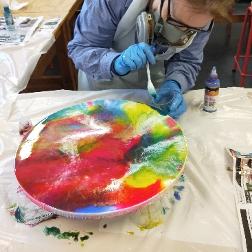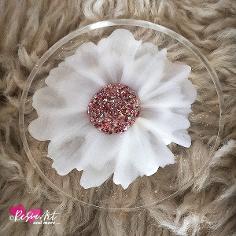 In various sessions (explained above) you will ...
Learn how to use resin pigment powders and pastes in resin. Also tints, inks and beautiful pearlescent and metallic powders plus mica pigments and glitters. You select your own colours.

Understand various applications and other surfaces able to use for resin.

Artwork may be collected the following morning or afternoon (depending on session - or as arranged) it will be fluid and needs to dry overnight.

It will take 24 hours to dry and over 5 weeks to cure/harden.

Look after your resin item. Can clean with damp rag and water, or polish with good polish (not spray type).
What to bring - lots of big smiles and ...
To prevent resin possibly getting on your arms, I advise an old shirt with long sleeves which closes/does up at wrist is worn.

Do not wear fluffy jerseys etc as bits may drop into resin and if long hair then best to have tied back. Comfortable shoes as will be standing.

Bring - Your own cup/mug, as more hygienic. Also Phone/Camera as timer/photos (cover with Gladwrap/bag to protect from resin) - or bring kitchen timer. Masking tape wider best but not necessary (best is the orange coloured wide tape - 2dlr shops have), or either green or blue painters tape), scissors.

Also, your own hairdryer, as will find easier to userather than mine .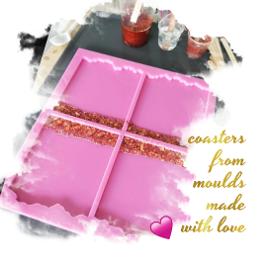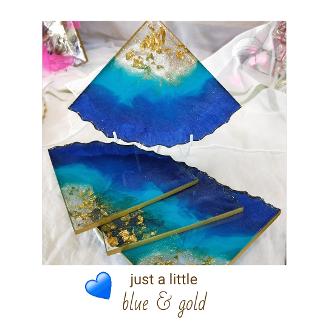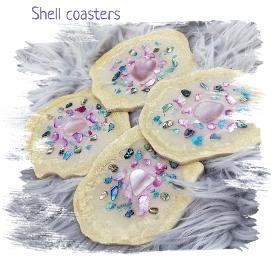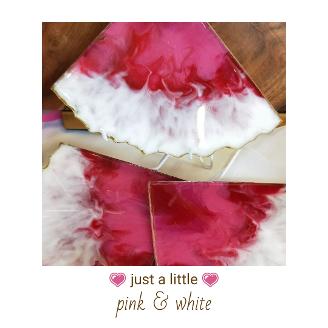 Being confident all will enjoy these workshops,
a 100% satisfaction guarantee is offered.
Please read the cancellation policy above and on About page.